Saturday 16th September 2023, 5:00pm
Mystery Writing Competition - 2023
Winners Announced!
---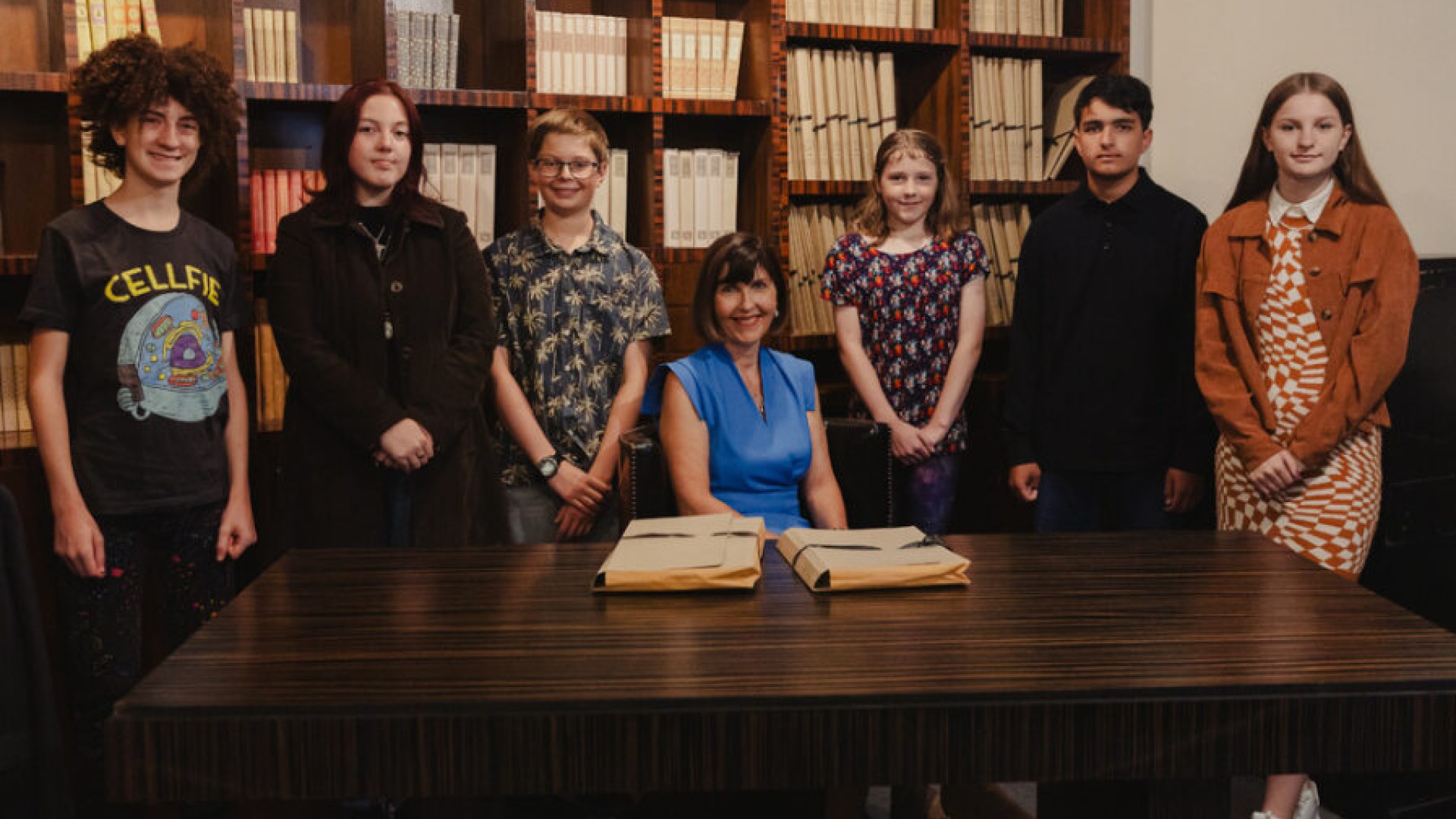 Left to Right: Javier, Lily, Zachary, Rachel Trethewey, Rose, Ahmed, Serafina, photographed at Poirot's desk, Torquay Museum © Emily Appleton for Agatha Christie Festival 2023
---
Agatha Christie Festival is delighted to announce the winners of this year's Young People's Mystery Story Writing Competition.
Entries were invited from young people aged 8-18 years who live or school in the county of Devon. Each was challenged to write a short story involving a mystery not exceeding 1,000 words in length. Presented and judged in partnership with Literature Works, Torquay Museum and Libraries Unlimited, we can now reveal our top three winners in each age category: 8-13 years and 14-18 years. Click on each title link to read the winning stories.
Prizes were presented at Torquay Museum on 16th September 2023 by Torquay-based author and Festival speaker, Rachel Trethewey.
Category 8-13 years
FIRST PRIZE: Zachary Dove, 12, for PERIL AT ALTITUDE
SECOND PRIZE: Rose Sheehy, 11, for AWAKE
THIRD PRIZE: Javier Fuentes-Hermoso, 13, for INTO DUST
Category 14-18 years
FIRST PRIZE: Lily Perkins, 15, for SAVIOUR
SECOND PRIZE: Serafina Turton Debicka, 16, for SHIPS IN BOTTLES
THIRD PRIZE: Ahmed Thomson, 14, for IF PARROTS COULD TALK
Congratulations to our winners! Thank you to all of you who entered and whose talented stories we hugely enjoyed reading. Keep writing!
With thanks to our generous sponsors: Wollens, PKF-Frances Clark, HarperCollins UK, LK Publishing.