Sunday 3rd September 2023, 10:00am
Agatha Christie Sea Swim
Beacon Cove to Meadfoot Beach
---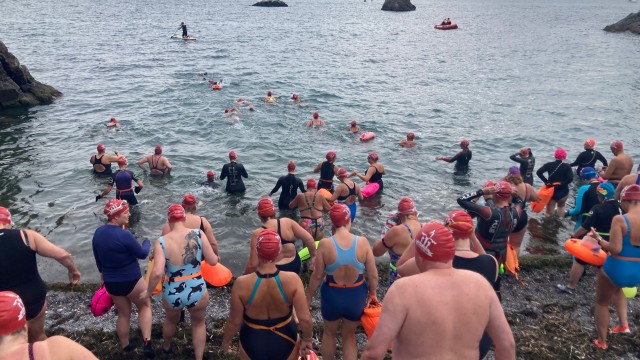 This unique event celebrates Agatha Christie's love of sea swimming, by taking participants on a one mile 'sightseeing swim' between two of her favourite beaches. Participants are encouraged not to race, but to enjoy the scenery, whilst raising money for Rowcroft Hospice.
Full safety support is being provided, while the event is open to all strong swimmers over the age of 18, who can comfortably swim a mile.
We will leave from Beacon Cove, where Agatha swam as a child when it was the Ladies' Bathing Place and swim past the Imperial Hotel, which is featured in several of her books. The swim then hugs the coast past Peaked Tor Cove (the former Gentlemen's Bathing Place) and then past Dyers Quarry and on to London Bridge Arch. It's possible to swim under this natural arch before continuing along past a huge cave known as Thunder Hole or Daddy Hole - it was once believed that the devil lived in this cave, so you'll need to be brave to venture inside.
The last past of the swim takes you past West Shag Rock and into the elegant curve of Meadfoot Bay overlooked by the majestic 19th century Osborne Hotel. The beach was one of the first to allow mixed bathing and was a favourite with Agatha, who would spend her summers with her sister Madge and her nephew Jack on what was considered the more aristocratic and fashionable beach.
The event finishes on Meadfoot Beach where there is a shower, toilets and a café.
All participants will receive a souvenir reward at the cafe following the event. Authors Matt Newbury and Sophie Pierce will also be signing copies of their Wild Swimming Walks Books, which will be available to purchase.
Tickets are £30 including full event support and insurance, souvenir swim hat and a unique branded prize for completing the swim. This event is being run by volunteers with all proceeds being donated to Rowcroft Hospice.
Important Information
There will be three 'waves' leaving 15 minutes apart, each with a maximum of 75 swimmers. If you are swimming with friends, please ensure that you book in the same colour wave, as it will not be possible to move people around once you have booked.
10.00 am – Red Wave departs from Beacon Cove
10.15 am – Yellow Wave departs from Beacon Cove
10.30 am – Green Wave departs from Beacon Cove
We will have transportation available to move one bag per swimmer from Beacon Cove to Meadfoot Beach.
We will be emailing more information and disclaimer forms ahead of the race, which we must receive back in order for you to participate. Spectators are encouraged to follow the coast path past the Imperial Hotel and along to Meadfoot Beach. There are several vantage points along the way to see the swimmers from. Please note this path has a number of steps in places and is not suitable for those with limited mobility. The views are spectacular though.
If the swim is called off due to adverse weather conditions, we will not be able to issue a refund. However, all swimmers will still get their hats and gifts, with all remaining money being donated to Rowcroft Hospice.
Photograph ©Dan Bolt